Accommodation in Batsi
---
Your accommodation in Batsi, Andros at Anemoesa Studio, will be unforgettable. The facilities will offer you wonderful holidays and unforgettable moments. In particular, our rooms are located next to the sea, so close that you will hear the sound of the waves and see the magnificent view of the bay. Our accommodation offers double, triple and quadruple apartments that will meet all your needs. Our warm hospitality will be unforgettable and your stay will satisfy you to the fullest. Although Anemoesa Studios are located very close to Batsi, you will find them in a quiet, idyllic spot. The view of the beautiful sunrise and summer moon on the garden terraces will enchant you and you will feel like you are in a dream.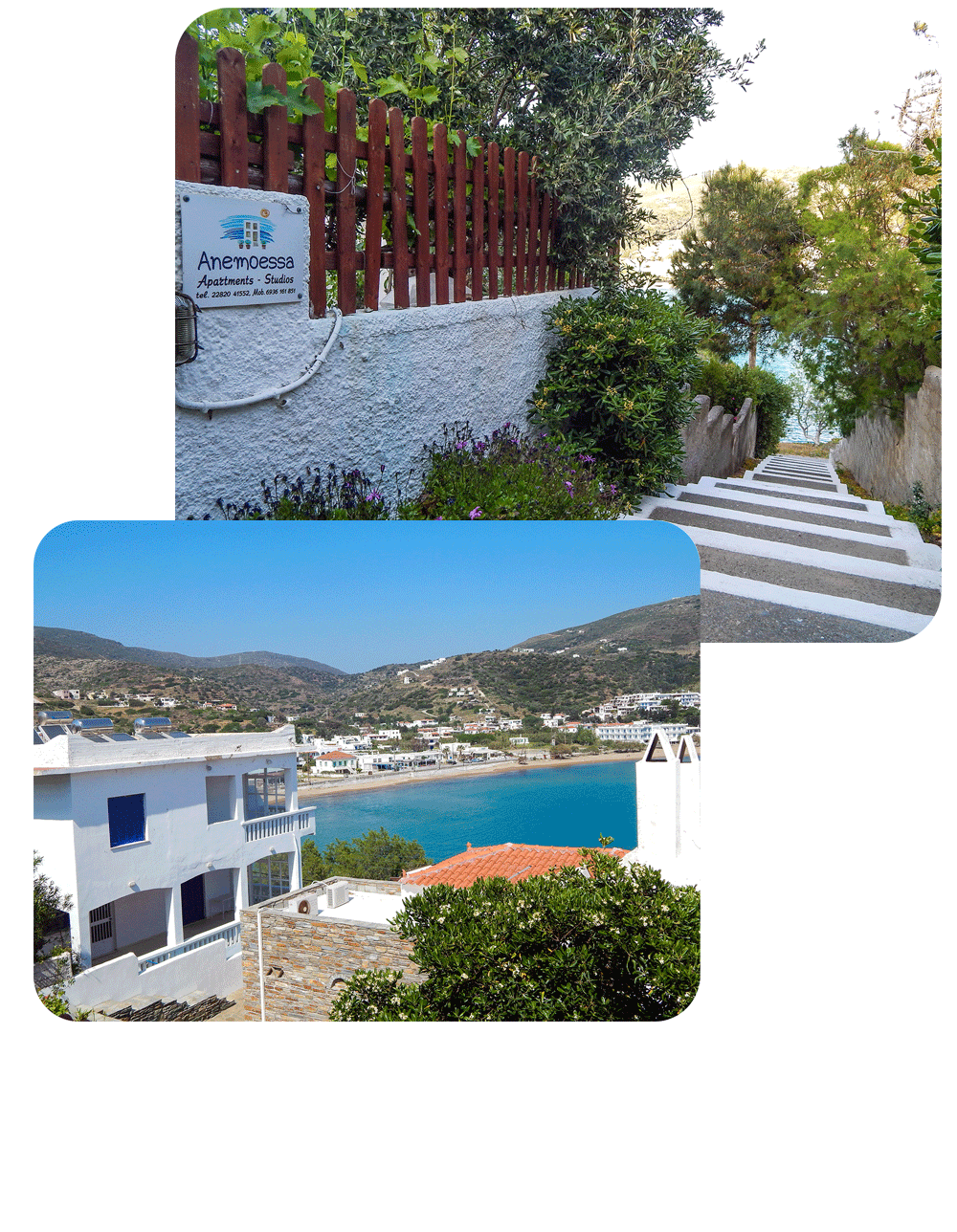 Close to the sea
---
If you are looking for Studio and accommodation in Batsi, then our rooms are ideal for you. They are in a wonderful location, by the sea and you can literally see the waves. Anemoesa Studios offer a daily cleaning service meeting all health standards and are equipped with a kitchen, air conditioning, TV and free Wi-Fi in all areas of the property. The apartments have free access to our lovely courtyard which is full of aromatic plants, bougainvilleas and vines. It is the best shade, for the hot summer days.
Andros is just 2 hours away from the port of Rafina. At Anemoesa we will take care of you, with our top-quality amenities and facilities. Our rooms are excellent for all type of guests, both solo travellers and couples, as well as families and groups of friends. At our accommodation you will find peace of mind, because of our quality rooms, excellent courtyard and wonderful views. Most importantly, you will manage to escape from the frenetic rhythms of everyday life. If you choose the beautiful, noble island of Andros for your next holiday, then at Anemoesa Studio in Batsi we will make sure you have an unforgettable stay.
---
Book Now!
Fill in the reservation form to check availability in our comfortable studios and to help you with anything you need.